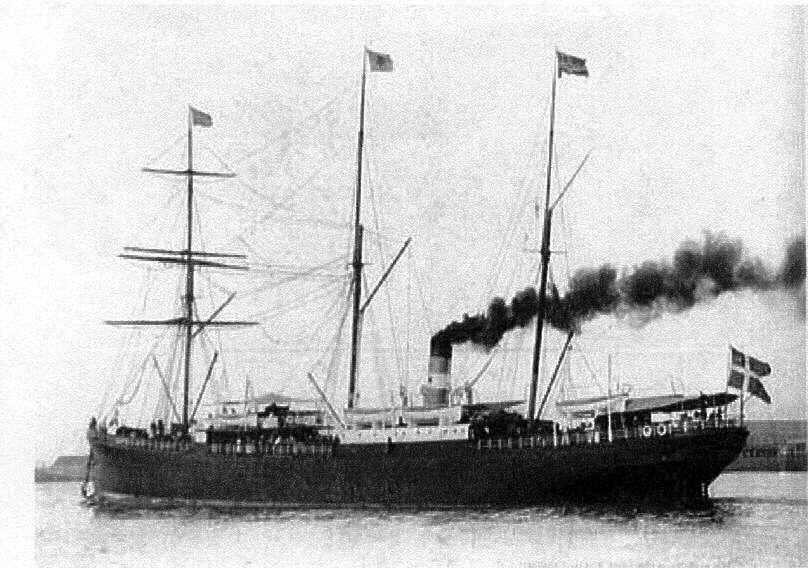 SS THINGVALLA
The "Thingvalla," belonging to the Danish Thingvalla Line, was a 2,524 gross ton ship, built by Burmeister & Wain, Copenhagen in 1874. Her details were - length 300.7ft x beam 37.2ft, one funnel, three masts, iron construction, single screw and a speed of 10 knots. There was passenger accommodation for 50-1st, 50-2nd and 900-3rd class. Launched in Oct.1874, for the "Sailing & Steamship Co of 1873" of Copenhagen, there is no evidence that she was used as a passenger ship before being bought by the Thingvalla Line in 1880. She commenced her first voyage for these owners in April 1880 when she sailed from Copenhagen to Newcastle and New York. On 14/8/1888 she collided with and sank the Thingvalla Line vessel "Geiser" with the loss of 105 lives. On 19/5/1890 she was slightly damaged in collision with an iceberg and on 15/9/1898 sailed from Stettin on her last voyage to Copenhagen, Christiania, Christiansand and New York.
In 1898 she went to the Scandinavian American Line and on 9/11/1898 commenced her first voyage for these owners from Copenhagen to Christiania, Christiansand and New York. On 26/5/1900 she commenced her last voyage from Stettin to Copenhagen, Christiania, Christiansand and New York. She was sold to Norwegian owners the same year and in September 1903, stranded at Torgfjord, was sold and scrapped. The ship was named after the field in Iceland where the old assemblies of the people were held according to Norse custom and usage, and where resolutions were passed for the benefit of their commonwealth. The year 1874 when the "Thingvalla" was built marked the 10th centenary of settlement in Iceland.
[Posted to The ShipsList by Ted Finch - 13 January 1998]
Edmund Buer and his brother Helge made their second crossing from Norway to America on the Thingvalla departing on March 13, 1886. They are both listed as American citizens at that time. Edmund Buer is believed to have first departed Norway on May 5, 1881 aboard a ship of the Amerikanske Line. It is not known if he was accompanied by his brother at that time.