Beatrice Fredrickson was the 6th child and the 3rd daughter of Charles and Christina Fredrickson. She was born in Concordia, Kansas on October 8, 1901.
She was raised in a large family of 9 children on a farm east of Concordia. All members of this large family had to work hard to help make the farm profitable. Their social life was centered around the Baptist Church in Concordia.
For her early schooling, Bea attended District 8 rural school near her family farm. In 1921, she graduated from Concordia High School with a Teaching Certificate in normal training. She was one of only 2 of the children in her family to graduate from high school.
For the next 5 years, Bea taught in several rural schools in Cloud County,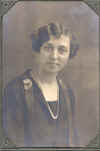 Kansas. Her nephew, Millard Ross, remembers that she was his 4th grade teacher when she taught at rural District II west of Concordia.
After completing a course at the Central Business School in Kansas City, Missouri around 1926, she was employed for a number of years in Concordia. Bea worked at the Farmers and Merchants State Bank, and later in the County Clerk's Office.
Beatrice and her sister, Marie Fredrickson, lived together in an apartment until

Marie married in 1934. These two sisters were very close, not only in age but also evidently in their interests and their overall outlook on life.
Beatrice did not marry until she was 35. She was very independent not only financially, but Bea and Marie owned and drove their own car in the 1920's and traveled around the country.
Beatrice and Marie Fredrickson were both very tall, had long beautiful legs, and wore the high fashions introduced in the 1920's. They had their hair cut in a "bob" which was a trend in large cities. Their Father was furious with his daughters for cutting their hair short, and they ignored him.
They would have been considered "too tall" by small town standards in Kansas in the early twentieth century, I am sure. However, the most famous movie star in the world at that time was a tall Swede named Greta Garbo, and later came Ingrid Bergman. The standard for "long stemmed American Beauty" so greatly desired in the twentieth century was developing partly to the Scandinavian influence of classic features and height.
Beatrice married Ward Butler on May 15,1937. Ward was working at the County Engineer's Office in the Cloud County Courthouse, and Bea worked next door. Ward Butler was a native of Glasco, Kansas. He was a college graduate, and an architect by trade. He had graduated from Kansas State Agriculture College in

Manhattan, Kansas.
Being a college graduate from a small town in rural Kansas was quite an

achievement in the 1920's. Ward was later employed by the Phillips Petroleum Co. in Bartlesville, Oklahoma. They lived in Bartlesville for 6 years where Bea worked as a secretary for Phillips. They then moved to Texas where Ward was employed by the US Soil Conservation Service in San Angelo, Texas, and later moved to Fort Worth. In 1950, they moved back to the Butler homestead south of Glasco, Kansas. His father lured Ward back to farming, and they lived and operated this farm until they retired to Glasco in 1983.

During the many years that Ward and Bea lived in Glasco, they took an

active part in the work of the Christian Church. Ward served as a Deacon and Elder for many years. Bea taught Sunday school and was a Deaconess for 20 years.
Ward died at the Nicol Home in Glasco, Kansas in August 1995. Ward and Bea had been married for 58 years at the time of his death. Bea still resides in the Nicol Retirement Home in Glasco.
She celebrated her 100th birthday in October 2001. The birthday party was

attended by 10 of her nieces and nephews, as well as several great nieces, and friends. Beatrice remains today, the last surviving member of a family of nine children of immigrant Swedish parents who arrived in America 120 years ago. She is a special person!
(Profile prepared July 2002 by Vicki Witherspoon/Ptak, niece of Beatrice Fredrickson Butler with contributions from Millard Ross and Pauline Hall.)